Context-Sensitive Help
From within Adapt It, you can access help by selecting the Help / Help Topics menu command. Help topics include task-related instructions as well as descriptions of the user interface: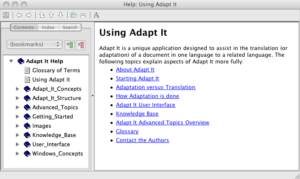 Introduction Video
If you have internet access, you can watch an overview video of Adapt It.
Tutorials and Other Documentation
The full installation package for Adapt It includes the following:
Adapt It Quick Start.htm – quick start guide for Adapt It
Adapt It Tutorial.doc – tutorial for Adapt It (this tutorial can also be found online by heading over to our Getting Started link).
Adapt It Reference.doc Reference materials for Adapt It.
The Adapt It program's Help Menu (all versions: Windows, Linux, Mac) has the following Help menu items available while Adapt It is running:
Adapt It Quick Start Help
Help Topics (F1)
Report a problem…
Give feedback…
About Adapt It…
In addition to the items on Adapt It's Help menu, other helps and files are also included in every installation:
The Windows version:
The following helps are in the form of Menu links under the "Adapt It WX Unicode" program menu:
Adapt It Changes
Adapt It on the Web
Adapt It Quick Start help (also available within Adapt It on its Help menu)
Adapt It Reference
Adapt It Tutorial
Consistent Changes Documentation
Help for Administrators (HTML)
There also are the following documentation and control files located within this Windows directory:
C:\Program Files (x86)\Adapt It WX Unicode\
Adapt It changes.txt
Adapt It Reference.doc
Adapt It Tutorial.doc
Adapt_It_Quick_Start.htm
AI_UserProfiles.xml
AI_USFM.xml
books.xml
curl-ca-bundle.crt
GuesserExplanation.htm
Help_for_Administrators.htm
iso639-3codes.txt
KJV 1Jn 2.12-17.txt
Known Issues and Limitations.txt
License_CPLv05.txt
License_GPLv2.txt
License_LGPLv21.txt
LICENSING.txt
Localization_Readme.txt
Readme_Unicode_Version.txt
RFC5646message.htm
SILConverters in AdaptIt.doc
Tok Pisin fragment 1John.txt
The Linux version:
The following helps are available from the Linux system directory at: /usr/share/adaptit/help/
Adapt_It_Quick_Start.htm (also available within Adapt It on its Help menu)
GuesserExplanation.htm
Help_for_Administrators.htm (also available within the Adapt It program on the (normally hidden) Administrator menu
RFC5646message.htm
The following helps are available from the Linux system directory at: /usr/share/adaptit/
AI_UserProfiles.xml
AI_USFM.xml
books.xml
curl-ca-bundle.crt
FwdSlashInsertAtPuncts.cct
FwdSlashRemoveAtPuncts.cct
iso639-3codes.txt
On the Mac version:
The following helps are available in the App Bundle
(in Finder use Ctrl-Click to show the Contents of the App's bundle):
SharedSupport Directory:
GuesserExplanation.htm
RFC5646message.htm
Help_for_Administrators.htm
Adapt_It_Quick_Start.htm
Resources Directory:
Tok Pisin fragment 1John.txt
Readme_Unicode_Version.txt
Localization_Readme.txt
Known Issues and Limitations.txt
KJV 1Jn 2.23-27.txt
Adapt It changes.txt
Adapt It Tutorial.doc
Adapt It Reference.doc
curl-ca-bundle.crt
iso639-3codes.txt